Marrakech, City of Spice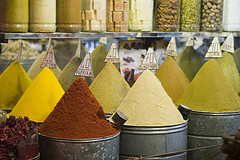 Last weekend I got back from a trip to Marrakech. Unfortunately these days you have to do some traveling when you want some sunshine for your birthday in March. But both Ryanair and Easyjet provide you with good deals for a trip to the doorstep of Africa. And fair enough we arrived just after the big rain. For the whole 9 days we had beautiful weather only interrupted by two thunderstorms. As it turns out March/April seems to be quite a good time to visit. While it still gets a little chilly at night you are also not melting away at about 27-30 degrees during the day.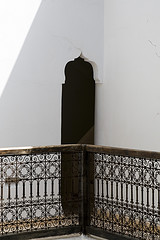 Picking a place to stay in Marrakech is hard. But just because there are plenty of beautiful options. In order to get a good feeling for this bustling city you want to make sure to stay in a Riad in the old medina – the old town center. Maybe spoiled from our previous trips we expected accommodation to be a bit cheaper though. Riads start at around 70 EUR for a double – off season. 100 EUR is nothing special and of course there is no upper limit. We were quite happy with our choice – the Riad Dar Dallah. It was conveniently located, not far from the Jemma El Fna – the touristy center of Marrakech. Central but still tucked away in the labyrinth of small pristine streets providing privacy and a quiet refuge of the busy city. Also a reason why we were very happy we got picked up at the airport. We would have never found the way ourselves. Patrick, the french owner and the local staff was very nice and forthcoming. The Riad spotless. They even coped with our french – or rather the lack of it. One thing to improve would be to accept credit cards though. The whole booking process seems a little strange over there anyway. It seems to be normal to make a deposit. When we first considered a different Riad they asked for 50% deposit up front.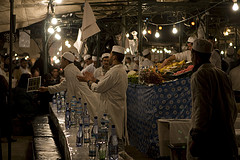 Plus a service and handling charge (WTF!). This felt all so wrong that we searched Tripadvisor which turned out to be a good resource to check. After reading up on our first choice we picked Dar Dallah and never looked back.
While Morocco with its french influences is supposed to have great food I have to admit we weren't that excited. While we stayed away from snail stew (uuurgh!) the Tanjias or the different couscous dishes were nice – but not our first choice of cuisine. Eating at the food stalls on Jemma El Fna is an experience. Especially when you see them pour unfinished dishes back into the pot. But that said – the food was really good! And not every booth does it like that. So be no sissy. A common dinner recommendation for Marrakech is the Yacout. But according to locals it's quite overrated – and overpriced. So instead we went with two are other recommendations. The Foundouk and the Kosybar. The food was great at both places but the Kosybar needs to work on its service.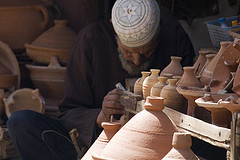 Sleep, eat – but what's to see in Marrakech? Of course there is no way around Jemaa El Fna the busy and touristy market square that everyone is trying to give you directions to …or the souks with all the people trying to sell you lamps, shoes and spices. Preferably all that and more. For "a good price, my friend". We enjoyed the smaller spice square. Just hang out in the nice Cafe de Espices and watch the hustle and bustle with a nice glass of Tea a la Mente. Medersa Ben Youssef is a pass while the Museum of Marrakech is not bad if you have some time to spare.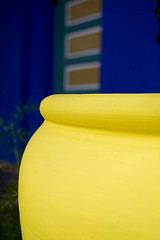 While also quite touristy the garden Majorelle is definitely worth a trip. (Just grab a taxi – should not be more than the equivalent of 2 EUR to get there) Especially in the afternoon the light is great and further illuminates the already saturated colors. A visit to a hammam is a must as well. We relaxed a few hours at Les Bains which was just perfect and so worth the money! Of course there is also the palace, a dozen mosques and many places we probably have missed.
This is probably still not much compared to many other cities …but still there is plenty to see: that's Marrakech itself. Just wandering through the labyrinth of streets, dodging all the mopeds and bicycles in the small streets, smelling the leather, the spices and the fresh mint (when not covered by the fumes of the mopeds). All these different facets was just worth the trip.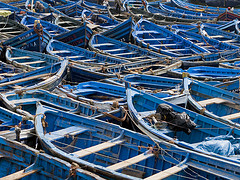 That said in retrospect we probably would have rather spent only 4 days in Marrakech and traveled around a bit more. We did a day trip to Essaouira which is a much more relaxed small town at the ocean. (We took a driver but there are busses going as well – I bet that's cheaper) A nice escape from the city life. During the trip I realize that the country side was much richer in plants and green than I ever imagined. Next up there are also the Atlas moutains close by. We only barely got a peak from the distance – once. Probably the city haze is to blame. But you can even go skiing there! I personally would have loved to take a trip into the desert and stay there over night. So it seems there is quite a few things to do in Morocco. There is more than just Marrakech.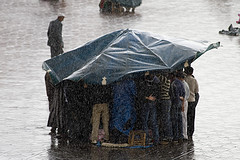 A note to the photographers: It's picturesque but be aware that for some reason people have a sixth sense when there is a camera pointed at them. I have never had so many people tell me verbally or gestically "No pictures!" ever before. Either that or you are expected to pay for taking the picture. Talking about that: I deliberately refused to take any pictures of snake charmers, the monkeys on a leash or all the turtles in cages. While I am no animal rights activist this all felt so wrong I didn't want to support or encourage this.
Marrakech is a great place to visit. Just a few hours from Europe. Perfect for an extended weekend. Don't miss out on it! To get you into the mood check out my photo set in my travel section on flickr.