Back from the Island of Gods
A few days back we got back from our trip to Bali. Being just on the door step to Australia the flights have been quite exhausting. But it was well worth the long way.

Arriving in Kuta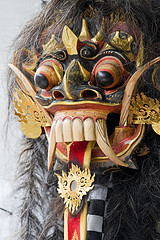 We arrived on Saturday night late at 10pm and we had nothing booked at all. But as travelers on Couchsurfing suggested that was no problem. We just took a cab to Poppies Lane in Kuta. Plenty of very reasonable priced (not to say cheap!) hotels there. We ended staying at the Masa Inn for about 25 EUR a night. It's conveniently located only a short walk from Kuta beach with all it's clubs and parties. Since we are not fans of El Arenal type entertainment we just stayed for the night and left in the morning for Ubud.
Transportation
When we left Germany we planed to rent a car to have a little more freedom to get around. During the taxi ride from the airport I suddenly wasn't so sure anymore whether I really want to drive in Bali. Traffic rules that are seen more as suggestions made us hold onto the seats a couple of times. In retrospect it would have probably been OK once outside Kuta. But with only few signs finding the way does seem to be another obstacle. Renting a car with driver is quite a common way to get around all over Bali. "Taxi?" was probably the most heard word on the street. So we ended up hiring a driver to bring us to Ubud. Essentially having a chauffeur I find a little strange – but it gave us the opportunity to relax and see much more on the way.
If you do decide to get a rental car I would suggest to get it in Kuta. There is much competition and prices are lower.
Shopping in Ubud
Our expectations where quite high for this little town at the foot of the mountains. Laid back in the lush greens. It's called the spiritual center of Bali. And while this still may be the case, it wasn't really that obvious for us to find. We tried to get a room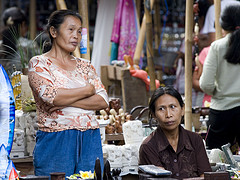 at a hotel overlooking the rice fields which is supposed to be very nice. Unfortunately they were booked out. Maybe one of the reasons that our impression was much more touristy was that we so ended up staying just off Monkey Forrest Road (at the Sagitarius Inn). There are nice restaurants, cafes and temples. But the word we ended up associating with Ubud was "shopping" much more than "spirituality". That said the Ubud market is quite an experience. Be sure to show your best haggling skills. Rumors say that the bags you get are color coded. They tell the next seller that (if black) you are no fool or (if red) you are easy money. Be aware that locals usually don't go there because starting prices are very very high (in balinese measures at least). Well, how is the stupid tourist supposed to know? For us it's still cheap. But locals always told us: "Please haggle!!" So not just do it for you – but also for them.
Money
Talking about money we found it best to bring cash. Changing at registered traders gave us about 13600 RP for 1 EUR. If you change at the hotel it might be less. On credit card transactions you quite often have a 3% surcharge (on top of what your credit card company will charge you for international use of course). While you can also spend big money in Bali you can get away with a very decent double room at around 15 EUR. No need to spend more if you go out for dinner (for two). And a rental car you can get as low as 11 EUR per day.
Gaia Oasis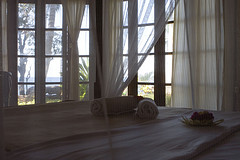 We stayed in Ubud for 2 nights. Then took a driver for the trip through the mountains to the Gaia Oasis in Tejakula on the north coast of Bali. We found this little resort during our research from Germany. We called them up from Ubud and were lucky they still had rooms available. When we arrived we didn't really know what to expect. Tejakula is a just small village. The driver dropped of in front and we started walking down this little path. Past very simple shacks and rural houses with chickens in front. Just when we became a little skeptical the path opened up and we arrived a the resort situated directly at the beach. When they showed us our bungalow we were blown away.
All bungalows are only a few more meters from the beach. Their bath's are half outside. Every one has it's own style. They are clean and the best place I ever stayed at for only 46 EUR a night (for a double!). They offer free yoga classes at 7am and 5pm. They have a wellness bungalow where you can get a 90 minute massage for as low as 11 EUR. They staff is really friendly and food is good. It's the perfect place to relax.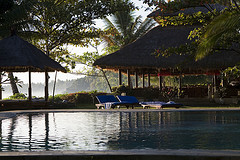 A few things you have to be aware of though: the beach is black and rocky – as most of the norther Bali coastline. Snorkeling is not particular fantastic at the house reef. But it was still fun. (We are spoiled from Fiji anyway) The only real annoyance we found is that you really don't want to book a driver or change money at the resort. (I hope they realize their price structure is really stupid)
There also is the original sister resort in the mountains. It's only a 10 minute drive. It's more rural. Also has gorgeous houses and a great salt water pool overlooking the Tejakula area and the ocean. But at the end of the dry season it's rather brown'ish around. Probably a magical place after the wet season.
So if you have 10 days you want to spend relaxing in Bali the Gaia comes highly recommended.
As I wanted to do some diving we also had a look at the Pondok Sari resort which is more in the north-west of Bali. But when we had a look we were quite disappointed. So instead of moving on we continued our stay at the Gaia and I traveled to the Alam Anda for diving. It's located only a 10 minute drive south of the Gaia. The Alam Anda has a Werner Lau dive base. While it's also a nice resort (Much nicer than Pondok Sari – but also much more expensive!) I would still prefer to stay at the Gaia and commute every day for the diving. If you take a bemo (public transport) it's really cheap.
Diving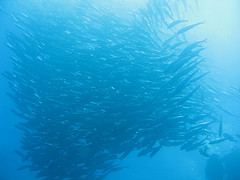 For the first dive I joined a group of intro divers on a trip to the USS Liberty in Tumbalen. The introduction for the newbies was shockingly poor. I did my best to help out there. For the dive I had my own guide and the dive was OK. Unfortunately not the best conditions and it got crowded soon. Later dives I did with the people from the Alam Anda dive base. Their house reef is nice. Good for at least a couple of dives. I also used the opportunity to get my Nitrox certification and finished with a diving trip to Nusa Penida. 2.5h by bus and 1h by speed boat. But all was well organized. The first dive was at Manta Point. Visibility was not good. Unfortunately only the other group saw a Manta for only a few seconds and then it disappeared into the blue. When we surfaced I wasn't really surprised I didn't see what I was coming for. 10 boats times roughly 6 divers. You do the math. The second dive was at Crystal Bay. 20 boats …and of course no Mola Mola. Ridiculous!
Photos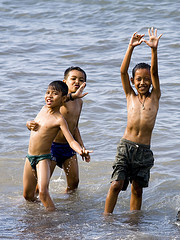 Bali surely is picturesque. The rice terraces are beautiful. And during our tours I came across many Kodak moments. But frankly speaking I didn't have the guts to shoot. Many of these moments involved quite poor people in the rural areas. When walking it's one thing to secretly take the shot or even ask. But stopping the car with a driver. Pulling out my expensive gear felt so wrong that I just couldn't do it. Maybe a challenge to overcome such feelings – but this time it just didn't feel right. So I am afraid my pictures will only show a very limit part of the nice things we came across.
But check them out on flickr.
This vacation turned out very differently then what we expected. Initially we wanted to travel more. But somehow we just got stuck at the Gaia and don't even feel sorry about it. This time it was just a difference vacation. Not the usual backpacking. But instead it was lots of reading and relaxing. Yoga, meditation and wellness. Many friendly people. A peaceful vacation at a peaceful place.