Paris in one weekend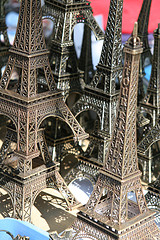 A weekend surely is not enough for Paris. But even the shortest trip is well worth it. Since last weekend I can tell.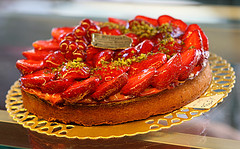 We were lucky and the weather was beautiful that weekend. If so are you – don't stay at the hotel for breakfast. There are plenty of cafes and it seems to be very natural to just sit outside in the sun to feel the real vibe of Paris. If you are late or just need something during the long day just go and find the next bakery. There is much more than just baguette in France. The bakeries are just fantastic. And in case you are exhausted from walking the sugar shock will help to get you though the rest of your day.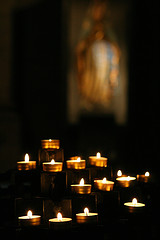 Montmatre is a nice suburb a little north of the center. It's where many painters were/are living and trying sell their paintings. Unfortunately it's a little touristy. Maybe that's also because one of the well known sights is just next door. The church Sacre Coeur is on a top of a hill where you can get a pretty scenic view over Paris. In retrospective it might have been nice to see it rather after dawn. The church is nice – but I think as some stage I caught myself a permanent church fatigue. So I much more enjoyed just hanging out in a non-tourist cafe a little further down the hill. (Mmmmmhh …cheeeeeese)
Another recommended place for a late afternoon or even to watch the sunset is the riverside of the Seine. Especially between the Orsay Museum and St. Michel it is very nice to just sit and enjoy a good bottle of wine. Don't expect to be the only that had this idea – but it still exhibits a very nice atmosphere. The wooden bridge just before the little island of St. Peter is where it can get a little crowded. Many young people hang out there at dawn.
Also one of the classics is to do a boat tour on the Seine. If you hate these guided tours as much as I do check out the much less touristy water taxi. You can hop-on/hop-off the whole day for 12EUR. Not as fast and cheap as the metro – but a nice alternative.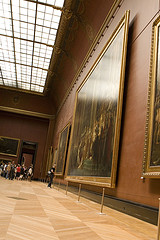 The Louvre! How can you visit Paris and not see the Louvre!? Nowadays especially fans of the Da Vinci Code can't. As I do like art this was also on my "have to visit" list. And sure thing – just the size and the amount of treasures is more than just impressive. But if you don't like the classic motives (that would probably be Jesus or some big woman) then it might well not be for you. Sure you can tell you have been to the Louvre, but I personally found the Orangerie (exhibiting impressionist like Monet) much more interesting than staring at the Mona Lisa. But as I am a child of the impressionism I might be biased. Probably also the reason why I wanted to visit Givernie. It is supposed to be really beautiful. Unfortunately it's a little further out (30 minutes by train plus 20 minutes by bus) and we could not slot it in that weekend.
Next time!
(For more pictures see flickr)