Back from the Ranch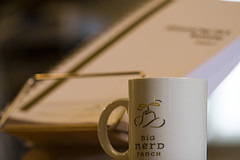 Last week I finally had the opportunity to attend one of the classes at the Big Nerd Ranch. I cannot say I've seen many cows during the week, but Mark Dalrymple certainly led the herd safely through some of the valleys of advanced Mac OS X. No big surprise, he is the author of Advanced Mac Programming and part of the team responsible for the Mac products at Google. He is one of the authors of Update Engine and also contributed to e.g. Google Earth.
Big Nerd Ranch provides classes (or bootcamps) as a full featured experience. You get picked up at the airport. And then have a full week of getting pampered. While I cannot say anything about the US location, at least the european "ranch" makes up for an only nice hotel with a spectacular location. You live and learn in an ancient monastery for a week. Breakfast – then class at 9am. A two-course meal for lunch – then class. A walk to get some fresh air – then cookies. Some learning and finally the 3-course meal for dinner. The food was exceptional. We ended up calling the class Foodcamp. A challenge during that week was to actually stop eating.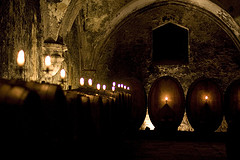 The monastery itself is located a little remote near Wiesbaden and the river Rhein. Not too far from Frankfurt. The place should look familiar to anyone who has ever watched the movie The Name of the Rose.

But not just food and location was great. Mark also did a great job teaching us about kqueue, dtrace performance tuning and so much more. I found it especially useful to get some hands on gdb debugging and being able to ask some questions to a pro with immediate feedback. (Stay tuned for some upcoming blog posts on this matter.) But even the exchange between the students was very interesting and useful. This group was exceptional small with only 5 students this time. Usually you can expect a bit more – up to 15 people in a class. Especially with the popular Cocoa and iPhone bootcamps. Which is still more than fair. The Big Nerds Ranch has probably some of the best known instructors. This makes me almost feel honored I was given the chance to even present on Friday a quick introduction to git and github.
As a disclaimer: I was the official Big Nerd Ranch representative for the week. But this post is not sponsored by any means. I can wholeheartedly recommend the Big Nerd Ranch and while the costs might look high at first – you should not forget what you get in return.
Some more impressions are available on flickr.