Photo in Melbourne City Guide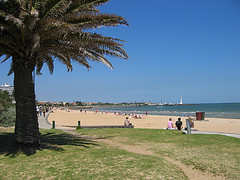 Frankly speaking I don't think this a particular great photo but "schmap.com" included it into its new city guide for Melbourne. Obviously they found my picture on flickr and asked for permission to use it.
There guides seem nice. I haven't had the chance to have a closer look – but their integration with yahoo maps is sweet. Not so perfect is that you need some sort of software for the offline version …and the version for OSX is not available yet. (Why not just a PDF download?) Anyway – would have been great if I had come across this earlier. I will check it out next time. Unfortunately it doesn't cover my next destination for vacation yet. (Greece) So for now wikitravel or the usual book-type guide will have to do.