TVP is now called Joost!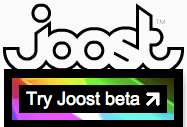 Ever wondered why the Venice Project web site has been so plain and simple? It's because the brand was not yet ready to be revealed. But since this morning we switched from the code name "The Venice Project" to our real name. Welcome to the next generation of TV ….it's been called "Joost".
Update: Please! I am happy do invite some people but just "invite me!" I consider as impolite spam. Also: For an invite you need to provide first and last name.