Switching to Nikon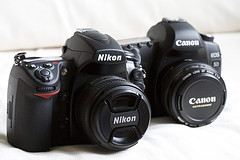 For almost a year now I was always going back and forth on the idea of switching (back) from Canon to Nikon. While I was quite happy with my glass, I became more and more unhappy with my 30D. I even noticed to be holding back investing in further gear. The 30D still is a great camera – but I guess it was a compromise from day one. I just didn't dare to shell out the money for the 5D as an amateur – for a few pictures now and then. But at least Canon had a full-frame line-up and good glass at a lower price tag. Future proof one might think.

Somewhere in the last 2-3 months I decided that it's time to finally byte the bullet and go full frame. After all photography has become a solid hobby for me (again). Something that I don't want to miss anymore. But what were the options? Buy and (old) 5D? Go with the latest 5DmkII? Or really have a second look at the Nikon D700 that made the jealous the day it came out? Switching systems – how silly and way too expensive. Right?
The D700 it is
It was really a tough decision. I soon ruled out the 5D. Awesome camera but it's more than 3 years old now. And it still wasn't a steal on ebay. And who knows how long the used one would last. So I was left with the 5DmkII and the D700. But checking them out in the shop just didn't cut it. So thanks to the 2 week return policy I ordered them both from amazon.
Just after a few hours of playing, handling and shooting. I found the clear winner – for me at least. In the analog days I was shooting Nikon. Now I felt it was time to go back to my roots. The D700 it was.
What about the 5DmkII?
How can that be? The 5D comes with a dazzling resolution of 21MP and even HD video!? People go nuts about it!
The 21MP might be nice – sometimes. But for the most place it comes at a high price. Be it storage or post processing. Certainly it gives you more room for cropping and bigger prints. But seriously – I never have (and will not anytime soon) hit the limit even with a 12MP camera.
Then there is the HD movie support. I am sure it's fun if you are serious about movies. The movie from Vincent is great but you should also watch the making of. Just to realize that the video feature is nothing for a quick video here and there. And frankly speaking it feels just weird in a DSLR. I guess I would rather go for a "real" camera if I had the need for it.
So all I am saying is: while these two are killer features for some people, they aren't for me. Be it the AF system, the solid body, the much better view finder or just the general feeling when shooting. These are the things that convinced me that it's time to switch (back) to Nikon. For me the D700 feels like a much bigger steps upwards from the 30D than the 5DmkII.
Always stick with the glass! Right?
I felt really bad about losing money when I now will be selling my Canon gear. Plus I really loved the glass I have. But Nikon has excellent lenses too. And after all… while Duncan might be a pro and I am just an amateur I think his response captures it very well.
It certainly isn't the camera that makes a good photographer. And we all know lenses are what you should stick with. Camera bodies come and go. But does that mean we are married with brand X for life? In the end we are also doing this for the fun of it. What are a couple of hundred bucks compared to the additional fun you have with your gear. Certainly that is something everyone has to work out on his own. But I made up my mind and feel quite happy with with it now.