Queens of the Stone Age in Berlin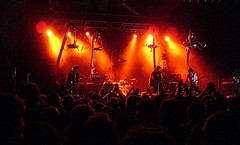 That was a 9.5 out of 10. A fair mix of old and new songs. Despite what the crowd acknowledged "No One Knows" was not the best song this night at Columbia Halle. They opened with "Regular John" which was a good start. I also enjoyed "Go With The Flow" a lot. Some of the new songs turned out very well live, too. A good performance – but after all they could have played a little longer. I am not sure my ears would have like that, though. Sound was pretty good but also a little loud. (I still had club disease the next morning.) The crowd was more mixed and younger that I would have expected. But fair enough. I am still waiting to find the concert online somewhere. At least it was broadcasted live. Someone must have managed to save that steam!
Update: Here I found the set list. And some of the performances are available on youtube. Yay!
1. Regular John
2. Feel Good Hit Of The Summer
3. If Only
4. 3's And 7's
5. Do It Again
6. Go With The Flow
7. Misfit Love
8. Into The Hollow
9. River In The Road
10. Little Sister
11. Battery Acid
12. Leg Of Lamb
13. Turnin' On The Screw
14. Better Living Through Chemistry
15. A Song For The Deaf
16. Sick Sick Sick
Bonus:
17. Burn The Witch
18. A Song For The Dead
19. No One Knows