Pelion in Greece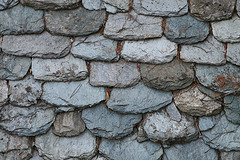 A beautiful place to be. And again there is proof: if you don't expect much, it turns out great. When we left we thought we might end up in a big fire or just die because of dehydration. The big heat wave in Greece was all over the news. Still we just drove from Thessaloniki down to Volos …and then into the mountains of Pelion. Actually we even saw a fire on the way down there. But in the mountains there was just one color – green. Temperatures were absolutely comfortable. 25-32 degrees with a light breeze. Pelion seems to be one of the few best kept secrets. If you like nature and the moutains you will be happy. If you love stunning beaches with crystal clear water you will be happy. If you love the small villages and can't stand the big ugly tourist traps – you will be happy, too. At least so were we.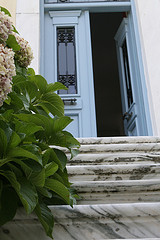 We did not book accommodation in advance. A bit of a risk in high season. But anyway – we were lucky. I did some research on the net beforehand and we had a couple of addresses with us. After a lengthy trip through the mountains we arrived at our first choice – the Silk Store in Mouresi. And thank God – one room was left. The one with the ocean view. And that for only 63 EUR – plus 8.50 for breakfast per person. (Breakfast is good – but not really worth 8.50 EUR. Just go across the street to the bakery for fresh bread. A mini marked is also just down the street.)
Mouresi is a little village on the east cost of Pelion. It is slightly secluded in the mountains surrounded by a sea of green forrest. The village spreads its serpentines over 500 altitude meters down to the turquoise blue water of the Aegean sea. Something one cannot imagine in summer is that they used to get easily 2 meter of snow in winter. A ski resort is not far – in Greece! Mouresi has a couple of nice restaurants. Most of them with scenic views. Many with fantastic food. Frankly speaking it was different from what you usually get at a Greek restaurant in Germany. They had good fish and at least in this area Gyros seems to be much less common as you would expect. If you go for food don't miss Kafestiato at the top of village. Probably the best food we had during the whole two weeks. Ovaggeanz not far from the Silk Store is good, too. Very friendly and many locals go there. If you want a bit more ambiance, further down the hill Aganitos is for you. But even the usual restaurant at the village square with the usual big tree wasn't bad. In Tsangarada there is also a nice one. But it's more metropolitan style with a bar. Good for drinks at night. That being said – the nights start late in Greece. People usually do not go for dinner before 9-10pm.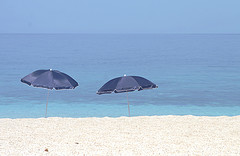 While we've run into few foreign tourists, it seems people from Greece are aware of this nice area. The beaches are stunning. Being spoiled by last years trip to Fiji all one could be missing is the fantastic marine flora and fauno. So while people are still paddling away, unfortunately there is not much to see when you go snorkeling. Our favorite beaches were: Fakistra, Mylopotamos and even Plaka which is very easily reachable – not like Limnionas. If you got a boat or a jeep go for it. (Poor little Twingo – a story you don't want to tell to the car rental agency) If you want more deserted beaches you should probably avoid the first weeks of August. This is also why were so extremely lucky with the accommodation. Usually the Silk Store is booked out well in advance around this time of year. Jill, the owner is nice and very helpful. She is from England – which made communication much easier. She also seems to have a little travel agency going and helps organizing trips and further accommodation. This is how we found the our next apartment.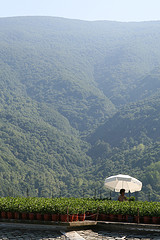 The Bali apartments a little further down the street (on an altitude of about 150 meters). Not pure luxury but comfy. Very secluded with a great view. A fair price at 70 EUR for a 2 bedroom (up to 6 person) apartment in high season. This was basically our base for the second half of the vacation. We did a little trip to the other side of the peninsula. A beautiful drive until you reach the area where the fire has hit. The sea of charred trees almost look like a battle field. The death of all the green gave a feeling of trepidation. At the west coast we visited the small villages Kalamos and Paou. Nice. If you don't want to meet tourist these are for you. But we found the beaches to be not as stunning and the nature was more brown than green. Lots of olive trees. So we happily returned to Mouresi.
On the way back to Volos we took a little detour. We passed through Milies, Vizitsa and Agios Giorgios. All beatautiful villages well worth a visit. Unfortunately not as close to the beach. But if you can you should stop there. On the way back we found out that the tourist traps are not far though. Disgusted we left behind the area around Leptokaria and were just happy about the beautiful place we found for last two weeks.
For people interested in geo stuff. All my pictures from this trip are geocoded. And I am happy to provide tracks and waypoints if you want.