ApacheCon EU in Dublin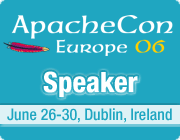 So everyone has already posted their summaries and surveys of this past event. From the speakers point of view I was bitten by a pretty bad organization of the travel arrangements. But other than that it was a nice show. Nothing compares to the one London in 2000 but… ;-) My two sessions went reasonable well. I've now finally put the final slides online:
Attendance was a bit of a surprise. I've talked to the conference organizer and IIUC the byte code engineering session had the most attendees of the whole conference sessions! I would have never expected this huge interest! A few people even have suggested a byte code engineering tutorial. Was a bit too late for the next ApacheCon US though. Maybe next year?